Church of St. Hovhannes-Mkrtich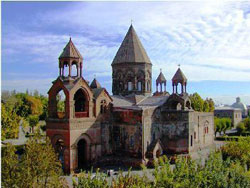 Matenadaran is a unique repository of ancient Armenian manuscripts. The institute was opened in 1959, based on the collection of the Etchmiadzin Monastery. About 17,000 manuscripts are exhibited here, which represent the best examples of ancient Armenian writing and miniatures, fragments of parchments, fossilized fragments of manuscripts found in caves, copies of the first printed books, etc. The oldest manuscript that has survived to this day is the Gospel of Veamor (Virgin Mary ), created in the 7th century. 
In the 1980s, Rafael Israelyan's son, architect Areg Israelyan, continued his father's work, and the church was reconstructed. A dome was built and the outer walls were lined with tuff. Much work has been done to restore the interior. A gallery for the choir was built on the western side, and the main altar is decorated with bas-reliefs. The construction of the bell tower has been completely completed. At the church there is a scientific and cultural center "Kozerni", where modern and ancient Armenian language (grabar), foreign languages (English, French, German), history of Armenia and the Armenian Apostolic Church are taught.